After visiting the animal park, climbing in the trees, and playing in Kid'z Land, you deserve a break! Even superheroes have small cravings from time to time… especially when they are having fun outside!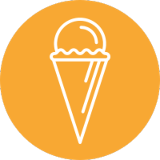 KIDZ LAND REFRESHMENT STAND

ADVENTURE PARK REFRESHMENT STAND
3 REFRESHMENT STANDS AT YOUR DISPOSAL
Are you looking for a quick bite to eat at lunchtime or a snack in the afternoon? Don't worry about losing your energy: Signal de Bougy has 3 refreshment stands, with a wide choice of snacks and drinks to satisfy everyone, especially the kids! The Signal de Bougy refreshment stands are perfect for a quick stop. Hot dogs, mini pizzas, waffles, pancakes, ice cream, coffee… And off you go!
KIDZ LAND REFRESHMENT STAND
Mini golf, boats, Family Coaster… Now, everyone is starting to feel hungry… Fortunately, Kid'z Land welcomes a refreshment stand to please the little ones (and the grown-ups too): waffles, ice creams, sweets, compotes, drinks… Treat yourself!
FEEL LIKE EATING SOMEWHERE ELSE?
The whole family will enjoy the Signal de Bougy self-service restaurant. Enjoy the dishes our Chef has prepared: he made sure to please all preferences.
New: a food truck has been set up in the park to offer you more choices and flexibility and to treat you at any time of the day.
Enjoy the pleasure of smooth and refreshing ice cream during your visit to the park. A nice break that children and adults can't afford to miss.
Organize a picnic at Signal de Bougy! Enjoy the nice weather, the activities, and the stunning view of the Alps and Lake Geneva.