From farm animals to the most exotic ones, enjoy a day at Signal de Bougy to discover the 23 species and 150 animals that live in our animal park. You can observe goats, deer, donkeys… But also snakes, lizards, or turtles! A whole world to marvel at and learn from, no matter your age.
The animal park of Signal de Bougy has 23 animal species, spread over about 17'000 square meters. Meet the pigs, donkeys, chickens, ducks, and other inhabitants of the farm!

Monday to Sunday
9 a.m. to 6 p.m.


HOUSE OF THE MAGICAL ANIMALS
The Animal Park has expanded and now makes room for the House of the Magic Animals. Small and endearing mammals, strange insects, and surprising reptiles will seduce all fans of extraordinary animals. But, what is so magical about them? Find out the answers when visiting the House of the Magical Animals.

Monday to Sunday
9 a.m. to 6 p.m.


IMMERSED IN THE ANIMAL PARK
Discover the day-to-day life of Jean-Baptiste, our animal caretaker: he introduces you to the animal park, our animals, and his job.
MEET THE FARM ANIMALS…
It's a visit that pleases children and adults alike: the animal park of Signal de Bougy. It is home to 23 different species, spread over more than 17'000 m2. You can observe Tibetan goats, pigs, donkeys, sheep, and rabbits. Children can learn more about these animals. For example, did you know that pigs have an excellent sense of smell?
To complete the visit, take a break near the pond to admire the chickens, roosters, turkeys, and geese after a detour to the Farm's refreshment stand. There are even turtles! Don't forget the deer park: luckily, you might be able to get close to them!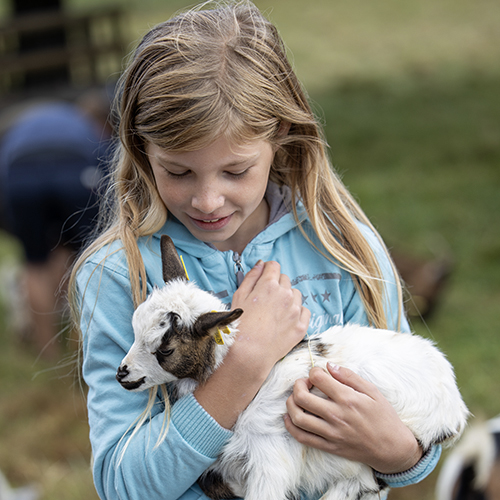 … AND MORE UNUSUAL SPECIES!
Farm animals are not the only occupants of the Signal de Bougy park: recently, we also shelter fantastic and exotic species in the House of Magical Animals.
Have you ever seen an axolotl or an octodon? No? Then, you will get to know them. You will also discover snakes, lizards, or exotic birds like the cockatoo. You can be sure of this: a unique day awaits you.